Novatek animal feeds
March 11th, 2010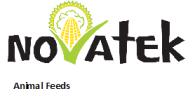 Novatek Animal Feeds is a member of the Zambeef Group of companies and a new entrant into the stock feed industry.
The Novatek Plant has the capacity to manufacture feed in Mash, crumbles, 2mm pellets and 3.5mm pellets.
The following range of stock feed is manufactured and available for sale:
Feeds Broiler feed, Pullet feed, Layer feed, Horse feed, Pig feed, Dairy feed, cattle concentrates and macro packs.
Quality

At Novatek we guarantee you the highest quality animal feed as we adhere to the Zambian Bureau of Standards regulations.

Packaging

Novatek provides well packaged 25 kgs, 50kgs and can deliver in bulk as well.

Pricing

Novatek feeds are competitively priced in all our outlets.

Locations within Lusaka

Novatek Animal Feeds is located on Katanga Road off Mumbwa Road at the Former Amanita Milling Plant. We have appointed Agents in Lusaka and they are situated in Raims Trading-Soweto Area off Mumbwa Rd, PRB Enterprise- Kaunda Square stage 2 or Oak Distributors, Mankandya Shop-Chelstone, Shabel Investments-Great North Road Lumumba Rd junction, Bauleni Street Kids-Leopards Hill Rd, DMF-Great North Road Kabangwe, SMT Investments-Kabanana Site & Service and New Born Animal Care-Avondale Market.

Locations outside Lusaka

Novatek Animal Feeds is located at Visha Trading-Kasama, Shchimu Trading-Nakonde. We are also in the Southern,Western,Eastern,Luapula, North Western and Central Provinces. The onsite Nutritionist and an experienced sales team are available for assistance and advice via a 24 hour helpline and personal visits on a regular basis to ensure unbeatable results from a superior product.
Contact us now on:
Landline: 286543/287710
Mobile: 0978 779016, 0966 339833
Sales lines: 0978 779017/38.